随身英语
Crystal Ball 新年预测
英语学习点: Vocabulary to Talk About the Future 和未来有关的词语
New Year is a time to peer into a crystal ball and tease out some of the stories that are likely to make the headlines in 2012.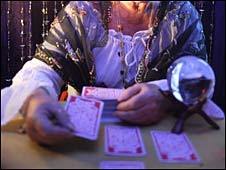 Technology: The BBC's correspondent Rory Cellan-Jones says that one thing we can be sure of is that internet access will spread to the next billion users. And the most read stories are bound to be about the launch of the iPhone5 and the iPad3.
Science: The BBC News science team says that by the look of things the so-called 'God Particle' can't hide for much longer. The Large Hadron Collider re-starts in March and if experiments go well scientists could collect enough data to settle the question of whether it exists once and for all.
Business: The BBC's Economics expert Paul Mason explains that the Eurozone is still on tenterhooks. "Logic dictates it can only end one way, with the markets forcing the European Central Bank to act as lender of last resort." Many economists forecast recession in Europe.
Arts and Sports: The BBC's Arts correspondent Will Gompertz is looking forward to the London Olympics. He predicts that Oscar-winning director Danny Boyle (of Slumdog Millionaire fame) will run a great opening ceremony.
Whether all the above turns out to be true, we'll just have to wait and see… if we're still around to find out. 2012 is a good year for doom-mongers because the Mayan calendar will end on 21 December after 5,000 continuous years. However, new research into the Mayans suggests that this refers to the end of an era, and not the apocalypse. Phew! Happy New Year!
Glossary 词汇表 (收听发音, 请单击英语单词)