Encyclopedias Transition into Internet Age
http://www.sina.com.cn 2004/07/12 14:57 新浪英语

  Mayer report
   (Download-604k)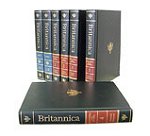 Who was the youngest U.S. president ever elected? What are the Seven Wonders of the World? The answers to those questions are just a few clicks away on the Internet. On-line references provide up-to-date information with pictures and sound. It's fast, it's simple, and, it's fun. With that option so readily available, is there still a market for the original arbiter of information, the printed encyclopedia?
  Although the personal computer seems to have infiltrated almost every aspect of our daily lives, some people still like to do things the old-fashioned way - including Chicago librarian Margaret Keer.
  "All the librarians, frequently, hourly, more than hourly, we need them," she said. "They are quick; they're easy and vital. We couldn't do without them. One of the questions I've been asked is if you could only have five or 10 source books to answer all the questions that you might be asked, what would you pick? World Book is always in the top five."
  Ms. Keer's colleague Ruth Lednicer, is charged with promoting high tech advances in the Chicago Public Libraries, including research on the Internet. But when it comes to encyclopedias, she still prefers the original.
  "The great thing is it also fosters great appreciation for the world that exists in books," said Ms. Lednicer. "Whole other imagination world you can tap into in books. It's great for kids gets them reading, gets them appreciating the tactile sense of picking up books."
  That's why Chris Witting, a father of two from Morton Grove, Illinois, purchased a set of the Encyclopedia Britannica for his children.
  "I had an encyclopedia when I was a kid so I figured this is something that my children should have," he said. "It was expensive but I did make the investment. The kids were excited when they got the encyclopedias. They came in a big box with a build-it-yourself bookcase. But what was most interesting was that, and this was in 1996, it came with a CD, and I said to them, 'see this little CD, everything that's in those books in on this little disk' and they thought that was amazing."
  Encyclopedia Britannica
  More amazing it turns out, than the impressively bound books.
  "They pretty much just used the disk. I mean those books got dust on them," he said. "They look good in the bookcase but hardly ever got opened. They would occasionally ask me a question and I would say 'why don't you look at the encyclopedia over there?' but they would go to the computer and use the CD-ROM instead."
  The Witting children are not alone. Many young people - like 17-year-old high school senior Megan Mullen - prefer the power of computer technology - whether CD-ROMS or the Internet - to the printed words in a heavy set of books.
  Mike, a 6th grader from Chicago, says his ticket to finding information is at his local branch library, but not in a book.
  "On the Internet because you have a wider selection," he said. Or I might just look up in a book, but I don't usually use an encyclopedia."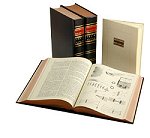 Using the Internet as a first choice does not worry Paul Kobasa, World Book's general managing editor.
  "We don't see the Internet as a threat… it's an opportunity," he said. "There are things we can present to our readers on line that we're unable to do in print. And we're more than happy to take advantage of that medium, on-line or on CD. It's a continuation of the tradition that started when World Book was first printed. Then it was the story of the world in pictures and text, now it's the story of the world in media and text."
  But Mr. Kobasa says there is still a market for the printed version.
  "The only technology you need to use the World Book in print are your two eyes and your two hands," he said. "Pull down the volume and look something up. We do intend to keep on printing it and that's one of the reasons we've been so actively following changes in print technology." Michael Ross, Senior Vice president of Chicago-based Encyclopedia Britannica, agrees that the print set is still alive and well.
  "There are consumers who still like 32 volumes of books; libraries still like them because some people can't get on the Internet…some people don't like CD's and sometimes they don't have enough computers for everybody," he said. "It's a very democratic medium."
  The move to electronic media is just the latest format change in the way encyclopedias deliver information. It's unlikely to be the last.