The Sixth Sense《灵异第六感》片段
http://www.sina.com.cn 2005/03/29 16:21 国际在线

  剧情简介: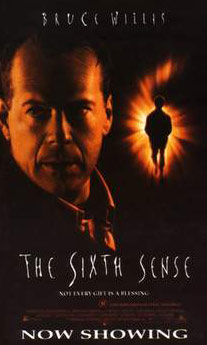 麦尔康医生是一名杰出的儿童家庭心理学者,帮助过不少问题儿童走回正路,也因此获得市政府的表扬。不料,一名接受过麦尔康医生治疗,但未成功的青少年却闯入麦尔康医生家中,枪伤医生后,再举枪自尽。
  一年后,麦尔康医生再度面临一件类似的病例,这名叫做柯尔的11岁小男生拥有阴阳眼,长久以来饱受冤死鬼魂的困扰,让他十分害怕,这种恐怖的遭遇让他无法对他人启齿,连他的母亲都无法了解为什么科尔总是行为怪异。麦尔康对于自己无法解决去年那名自尽男孩的问题一直耿耿于怀,因此他决定尽全力来帮助柯尔。
  但是长期以来饱受心灵折磨与煎熬的柯尔,却认定没有人可以帮助他脱离现状。在麦尔康医生不断的坚持下,终于柯尔逐渐打开心防,让医生了解自己的问题,也慢慢地接受他的建议。在治疗柯尔的同时,麦尔康医生发现自己的婚姻状况出现问题,他的太太不但冷落他,而且似乎有了外遇,麦尔康同时面对工作上与婚姻上的两个难题而备受困扰。尽管科尔在医生的开导陪伴下逐渐接受自己拥有阴阳眼的事实,但是就在整件事似乎即将大功告成,功德圆满之际,麦尔康医生却有一个更惊人的发现....
  Malcolm Crowe is a child psychologist who receives an award on the same night that he is visited by a very unhappy ex-patient. After this encounter, Crowe takes on the task of curing a young boy with the same ills as the ex-patient. This boy "sees dead people". Crowe spends a lot of time with the boy (Cole) much to the dismay of his wife. Cole's mom is at her wit's end with what to do about her son's increasing problems. Crowe is the boy's only hope.
  影片片段欣赏:
《灵异第六感》The Sixth Sense片段
点击观看:宽带视频
  Mom: Cole. Cole! Hey, your Cocoa Puffs are gettin' soggy(浸透的,泡软的). Let me see you. Oh, honey, you got a spot. Head up. Okay, here we go. Something you were looking for, baby?
  Cole: Pop Tarts?
  Mom: They're right here.
  Cole: Oh. Well, what are you thinking, Mama?
  Mom: Lots of things.
  Cole: Anything bad about me?
  Mom: Hey, look at my face. I was not thinking something bad about you. Got it?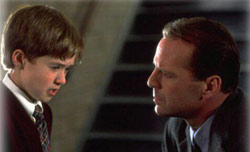 Cole: Got it.
  Mom: Here, head up.
  Cole: That, that's Tommy, Mom.
  Mom: That's okay. You tuck it in. Cole, you want this?
  Tommy: Hey, freak(怪物), how'd you like that "arem around the shoulder" bit? I just made that up. I went with it. It's what great actors do. It's called "improv."
  Mom: Hey, baby. How was your day? Hmm? You know, you can tell me things if you need to. Well, you know what I did today? I, uh, I won the Pennsylvania Lottery in the morning, I quit my jobs, and I ate a big picnic in the park with lots of chocolate mousse pie. And then I swam in the fountain all afternoon. What'd you do?
  Cole: I was picked first for kick ball teams at recess. I hit a grand slam to win the game. Everybody lifted me up on their shoulders and carried me around, cheering.
  Mom: Well, in that case, I am gonna make you some triangle pancakes. You got an hour.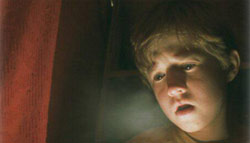 Malcolm: Hi. Wanna sit? Don't feel like talking today? Wanna play a game? It's a mind-reading game. Here's how it works. I read your mind. If what I say is right, you take one step towards the chair. If what I say is wrong, you take one step back...towards the doorway. If you reach the chair, you sit down. If you reach the door, you can go. Wanna play? Okay. When your mother and father were first divorced, your mom went to see a doctor like me, and he didn't help her. So you think I'm not going to be able to help you. You're worried that she said she told him things--things she couldn't tell anyone else. Secrets. You have a secret, but you don't want to tell me. Your dad gave you that watch as a present just before he went away.
  Cole: He forgot it in a drawer. Doesn't work.
  Malcolm: You keep pretty quiet in school, but...you're a good student, you've never really been in any serious trouble.
  Cole: We were supposed to draw a picture. Anything we wanted. I drew a man. He got hurt in the neck by another man with a screwdriver.
  Malcolm: You saw that on TV, Cole?
  Cole: Everyone got upset. They had a meeting. Mom started crying. I don't draw like that anymore.
  Malcolm: How do you draw now?
  Cole: I draw...people smiling, dogs running, rainbows. They don't have meetings about rainbows.
  Malcolm: No, I guess they don't.
  Cole: What am I thinking now?
  Malcolm: I don't know what you're thinking now.
  Cole: I was thinking...you're nice, but you can't help me.
  语言点提示:
  1. go with something 跟着做某事,伴随。
  2. improv. 是improvisation 的缩写, 即席创作,即兴表演