英语新闻:受暴雪影响 今春茶涨价(图)
http://www.sina.com.cn 2008年02月28日 10:44
都市快报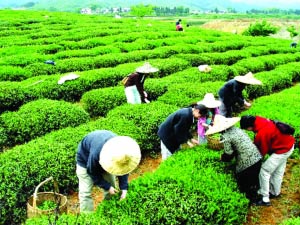 去年茶农采摘春茶的景象
  You are assured to pay more for this year's spring tea harvest. According to the latest statistics issued by the Provincial Ministry of Agriculture, the total area of devastated tea plantations is now over 700 square kilometers due to the heavy snow fall.
  The low temperature, together with the heavy snow that only falls once in decades, has brought severe damage to the tea plantations from the east of Zhejiang Province to all plantations province wide.
  The statistics collected by agriculture offices show that at present, around 778 square kilometers of tea farms among the total area of 1,600 sqkm were damaged with an estimated economic loss of 988 million yuan.
  Mr. Luo Liewan, director of the Tea Department in the Provincial Ministry of Agriculture, remarked that the tea farms in Zhejiang Province had gone through the most severe damage in 100 years, in terms of the devastated areas, extent and loss. So far tea trees growing above 450m sea level are still suffering from snow and frost.
  Divided by regions, the tea plantations in the cities of Shaoxing, Huzhou, Ningbo and Jinhua suffered most from the frost, which resulted in no harvest in some farms.
  In Shaoxing City, 196 km2 of tea plantations among total 363 km2 were damaged. Around 20.86 km2 farms need to replace the plants, leading a loss of 358 million yuan.
  The stricken symptoms include tea leaves and branches are dead due to severe frost, tea branches are broken due to heavy snowfall, and the young plants are dead due to lack of water.
  Mr. Luo Liewan estimated that the total output of this year's spring tea will be reduced by 20% compared with average years. In some heavily stricken counties like Xinchang and Shengzhou, the output will be reduced by over 30%.
  Also due to the snow and frost, the picking date for over 667 km2 plantations will be postponed for 40 days to Apr. 1st.
  It is said that even for the tea farms that survived the calamity, the picking date will be postponed for over 20 days on around Mar. 10th. The annual West Lake Dragon Well Tea Festival will be postponed to Apr. 2nd as well. It was held on Mar. 23rd last year.
  Mr. Luo commented that the prices of this year's spring tea will definitely go very high. In March 2005, influenced by a cold spell in spring, tea farms of around 510 km2 were damaged and picking date was postponed for 2 weeks. As a result, the spring tea known as black early cow ("wuniuzao") which normally sold for 700 yuan per kilo was raised to 1,000 yuan, increased by 40%.
  This winter most tea growing provinces in China were all stricken by snow. In Zhejiang, the output of green tea occupies a quarter of that of the whole nation. As this year a large area of tea plantations were devastated, as well as its neighboring provinces, it looks like the prices for spring tea this year will break all records.