音频精选
Dating Language 约会用语
在约会系列的第四集节目中,我们将为大家介绍一些实用有趣的约会用语。
In this series we've talked about speed dating, first dates and online dating.
Today we're going to revise some useful dating language.
In the programme we're going to hear the story of two people called Frankie and Rose.
Frankie loves gorillas, Rose loves Formula One racing, but will they find love with each other?
---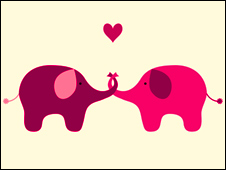 在你收听节目的同时请尝试回答以下三个问题。答案在本页尾。
1. Where did they go on their third date?
2. Where does Frankie admit that he and Rose are going steady?
3. What nickname does Frankie call Rosie at the beginning of the programme?
Answers
To the zoo.
At the supermarket.
Rosie-wosie.
---