音频精选
Speed Dating 极速约会
在约会系列的第一集节目中,Finn 和董征为大家介绍新的约会方式:极速约会。
Welcome to our series about dating in Britain.
In this programme we're looking at speed dating.
We meet Adam, a young British man who has tried speed dating and thinks it's a great way to meet new people.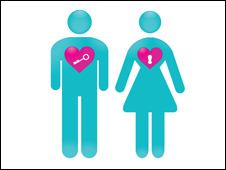 He thinks it's interesting because everyone else who is there is also single and keen to meet new people.
Adam says it can feel less awkward than having a meal with just one other person.
But how exactly does speed dating work?
Listen to the programme to find out.
At the end of the programme, Adam has a special message for everyone in Chinese.
---
Questions
在你收听节目的同时请尝试回答以下三个问题。答案在本页尾。
1. When you switch tables, is it the men or women who move?
2. How do people find out if anyone likes them after the event?
3. What happened when Adam tried the website?
Answers
It's the men who move.
You check on the internet to see if you have any matches.
The website didn't work.
---