Stephen Chow 大话周星驰(图)
http://www.sina.com.cn 2005/04/04 18:10 长喜欢乐英语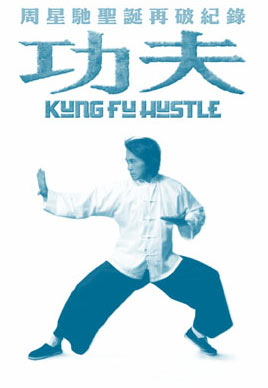 Having appeared in more than 50 films and won numerous Hong Kong Film Awards, Stephen Chow (Zhou Xingchi) has been regarded as Hong Kong's King of Comedy. He was born in Hong Kong in June 1962. In his childhood, he was fascinated by Bruce Lee, much like other children his age.
  Stephen Chow was nine years old in 1971 when Bruce Lee's triumphant Hong Kong film, The Big Boss debuted.
  It was a huge hit and he began to study martial arts. It is said that his friends sometimes had to call him "small dragon".
  In 1982, after graduating from high school, Chow auditioned for Hong Kong's TVB (television station) acting school, but didn't make the cut.
  However, through an acquaintance, he was able to take night classes and, the next year, was chosen to be master of ceremonies of the children's program "430".
  He was not fond of children, which made it difficult for him, but his performance went over well and he stayed on the show for five years.
  For several years after that, he worked on a variety of programs, and moved into drama, becoming even more popular.
  In 1988, Chow played one of the leads in the movie Final Justice (Pili Xianfeng), winning Best Supporting Actor at the Taiwan Academy Awards. It was his first film.
  He had his first starring role in 1990 in a Chow Yun-Fat spoof: All for the Winner (Du Sheng) and started excelling in the comedy genre.
  Chow became the number one Hong Kong film actor of the 1990s, earning more than Jackie Chan by as much as two times. He made 29 films from 1990 to 1993.
  Chow's style at the time of All for the Winner was called "Makes No Sense (wulitou)". This style established his popularity in the 90s as a comic actor.
  Chow has also shown an interest in aspects of film production.
  He challenged the first director of his James Bond spoof From Beijing with Love (Guochan 007) (1994). He became more concerned with the production side of movie-making with the Journey to the West (Dahua Xiyou). And, he directed and starred in Shaolin Soccer (Shaolin Zuqiu), which was successful both in China and in the US.
  Stephen Chow, who has been practicing martial arts as an amateur since he was a boy, growing up in a poor family in Hong Kong, hopes to make a really Kongfu movie.
  "I had to think about how to make a breakthrough. After all, people have seen so many Kongfu movies. It's a lot of pressure, but it was also a challenge."
  The result is Kung Fu Hustle, a martial arts comedy extravaganza that has been three years in the making. "I combine traditional martial arts with modern special effects in a way that's never been done before," he says with a hint of pride. "To me, special effects are a tool I can use to realise my imagination. The story and the characters are still the most important elements."
  The various kongfu experts in the cast also show a reverence for authentic martial arts, despite the many whizz-bang-pop special effects that populate the movie. "To me, the spirit of Kongfu represents everything that is positive about being human," he pronounces thoughtfully in somewhat halting Mandarin.
  Indeed, from being disparaged for his so-called mo lei tau (Cantonese for "nonsense") humour in the 1990s to being revered as a cultural icon today, you might say Stephen chow could do without Hollywood's blessings.
  Academics from prestigious Chinese universities have even written books about his movie's postmodern sensibilities. But as him whether he feels he has progressed at all as a filmmaker and comedian, and he is nonchalant. "I'm the sort of person who likes to look forward. I very rarely look back at my old movies, so I can't really say how I've changed," he says. "I'm very grateful and happy that different kinds of people, including academics, enjoy my work. But frankly, I think they are giving me too much credit. Actually my aim is very simple: I just want to entertain."
  So while some call Kung Fu Hustle, Wong Kar Wai's 2046, which appeals only to arthouse moviegoers, and Zhang Yimou's House of Flying Daggers, which gets labelled as lacking substance, the three blockbusters to watch in Chinese cinema this year, he declines to predict if his film will capture the hearts and minds of a larger audience. "I don't categorise movies as arthouse and commercial. There are only good and bad movies. Filmmaking is a difficult business and the only way to do it is to do the best job you possibly can."

Stephen Chow 大话周星驰(图)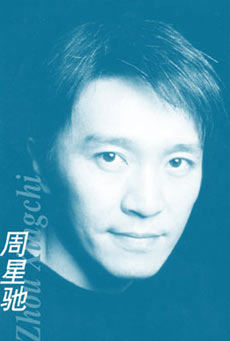 周星驰主演了50多部电影,赢得了无数的香港电影奖,被公认为香港的喜剧之王。周星驰于1962年在香港出生。小时候,他与同时代的孩子们一样,对李小龙非常着迷。
  1971年李小龙的著名电影《唐山大兄》上映的时候,周星驰才9岁。
  当时影片非常成功,于是他决定学习武术。据说,他的朋友有时会称他为"小龙"。
  1982年高中毕业之后,周星驰报名参加香港TVB表演学校,但是没有被录取。
  不过,他还是通过一个熟人参加了夜校。第二年,他被选中,成为一档儿童节目"430"的主持人。
  他对儿童节目并不感兴趣,这使他非常痛苦。但是他的表现非常出色,并一直主持了5年。
  几年之后,他参加了许多节目,最终进入了戏剧圈,从此出了名。
  1988年,周星驰在《霹雳先锋》中扮演了角色,并获得了台湾金马奖(Academy Awards)。这是他的第一部电影。
  1990年,他在周润发风格的电影《赌圣》中扮演主角,并开始转入喜剧领域。
  在20世纪90年代,周星驰正式成为香港头牌电影演员,收入也达到了成龙的两倍。从1990年到1993年,他总共出演了29部电影。
  周星驰在《赌圣》中的风格被称为"无厘头"。正是这种风格使他成为90年代最受欢迎的喜剧演员。
  而周星驰对电影制作各方面都非常感兴趣。
  他的第一部自导自演的电影是詹姆士·邦德类型的电影《国产零零七》(1994)。《大话西游》表明,他更加专注于电影制作方面。他还导演了《少林足球》,并在其中扮演主角,在中国和美国都取得了成功。
  贫穷家庭长大的周星驰自儿童时期即开始练习武术,一直希望能够拍一部真正的功夫电影。
  "我必须要寻求突破,因为人们看过太多的功夫电影。压力是非常大的,但是,这也是一种挑战。"
  其结果就是历时三年的武术题材的喜剧电影《功夫》。他略带自豪地说:"在这部电影中,我把传统武术与现代特技结合起来,这是以前从未用过的。对我来说,特技是实现想象的工具。故事情节和人物仍然是最重要的因素。"
  除了众多眼花缭乱的特技之外,电影中众多武术专家也体现了对传统武术的尊敬。他用生硬的普通话说道:"对于我来说,功夫代表了所有对人类有利的东西。"
  事实上,从90年代因为所谓的无厘头幽默受到蔑视,到今天称为一种文化标志,你可能认为没有好莱坞的协助,周星驰同样可以取得成功。
  中国知名学府的学者们曾经写过书,讨论他的电影的后现代主义。他说:"我是一种喜欢向前看的人。我很少会回头看看自己以前的电影,因此不能说我真的变了。有这么多人喜欢我的作品,包括学者,我非常感激和高兴。但是,实际上,我认为他们过于信任我。我的目标其实非常简单,那就是要制造娱乐。"
  因此,虽然有人说《功夫》和王家卫的《2046》仅仅适合艺术型观众,而张艺谋的《十面埋伏》却缺乏主旨。对于中国本年度的三部大片,他拒绝预测他的电影是否会赢得广大观众的青睐,"我认为不能将电影分成艺术片或商业片,只有好坏之分。电影制作是不同的工作,而惟一的途径就是尽自己最大的努力去做。"(编译:陈秀丽)