反毒斗争同床异梦 玻总统向赖斯赠琴(图)
http://www.sina.com.cn 2006/03/15 22:00 国际在线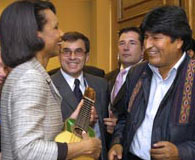 玻总统向赖斯赠琴示意
  Morales gave Secretary of State Condoleezza Rice a traditional Bolivian Indian musical instrument called a charango that resembles a ukulele and is usually made from animal hide.
  This one, however, was covered with bright green coca leaves.
  Coca is the raw material for cocaine but also has traditional uses in Bolivia, where the leaf is brewed as tea, chewed and incorporated into ceremonies.
  The gift was a reminder that coca and coca farming are legal in Bolivia, South America's poorest nation.
  Rice gamely strummed the instrument for a moment and posed with it for a Chilean television camera. U.S. officials were checking with Customs, but it's not clear whether Rice can legally bring the instrument into the United States.
  Rice and Morales were among dozens of leaders in this sunny port city for the historic inauguration of Chile's first woman president, socialist pediatrician Michelle Bachelet.
  Rice told Chile's state television she expects U.S.-Chilean relations will remain as close under Bachelet as they were under her predecessor and fellow socialist, Ricardo Lagos.
  Also on hand was the South American leader who most vexes Washington, Venezuelan President Hugo Chavez, who gave the Chilean president a kiss on the hand. He and Rice were seated far apart at the ceremony at the Chilean Congress building.
  Rice and Bachelet met for the first time before the ceremony, but her get-acquainted session with Morales proved more interesting.
  Morales campaigned with an anti-American edge and has differed publicly with U.S. officials since taking office as Bolivia's first Indian president in January. Last week, he protested the withdrawal of counterterrorism aid in a standoff over the selection of one of his anti-terrorism commanders.
  Morales, who once promised to be "Washington's nightmare," led the often-violent struggle against U.S.-backed coca eradication efforts over the past decade, and has promised to retool Bolivian coca policy.
  The two discussed antidrug cooperation and trade, U.S. officials said afterward.
  Morales has asked the United States to reconsider a proposed cut in anti-drug aid to Bolivia. President Bush's latest budget request would reduce anti-narcotics funding to Bolivia to $67 million from $80 million.
  He also wants the U.S. to enter into a "true" pact to fight drugs but has vowed his goal will be "zero cocaine," not "zero coca."
  "We don't want the drug fight to be a political tool to defend geopolitical interests," Morales said last month. "We don't want a drug fight that is a pretext for the U.S. or other powers or governments ... to simply control (Bolivia's) government, blackmail or place conditions."

反毒斗争同床异梦 玻总统向赖斯赠琴示意(图)
  当选前曾说自己将成为"美国的噩梦"的玻利维亚总统莫拉莱斯,11日与美国国务卿康多莉扎-赖斯举行首次会面,并赠给她一把用古柯叶子覆盖着的民族吉他,以暗示古柯和古柯种植在玻利维亚是合法的。
  据美联社3月11日报道,赖斯和莫拉莱斯是应邀出席在智利港市瓦尔帕莱索举行的智利女总统米歇尔-巴切莱特就职仪式的。在仪式开始前举行的短暂会谈中,莫拉莱斯与赖斯首次面对面讨论了两国间如何加强反毒合作等问题。会谈结束后,莫拉莱斯将覆盖着亮绿色古柯叶的一把民族吉他送给这位美国外交的女掌门人。当着智利电视记者的面,赖斯还勇敢地弹拨了几下。
  古柯是生产毒品可卡因的原料,但玻利维亚人有利用古柯的传统。他们用古柯叶泡茶,或放在嘴里咀嚼,或者用在仪式场合中。莫拉莱斯本人当选总统前就是玻利维亚古柯种植业的农会领袖。他曾对以此为生的该国农民许诺,自己上台后的政策将是"零毒品",而不是"零古柯"。
  莫拉莱斯在上月表示,"我们不希望反毒斗争成为美国政府或其他势力对玻利维亚进行操纵、勒索或要挟的借口"。(文/何晓鸿)