Ashanti英文金曲欣赏:太傻(图)
http://www.sina.com.cn 2005/01/28 11:53 国际在线

  歌手介绍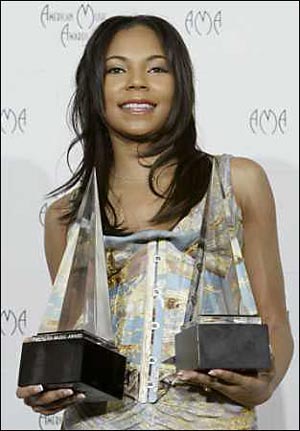 Born in Glen Cove, NY, Ashanti S. Douglas first sang in a gospel choir at age six. Her R&B singing career began in 1994 when she performed at a local talent show. Her strong soulful voice caught the attention of industry insiders and she immediately signed on with a management team and began showcasing her talent with performances at the Soul Cafe, China Club, Madison Square Garden, Caroline's Comedy Club and Greek Fest 2000 at Jones Beach to name a few.
  Ashanti's overnight jump to superstardom followed that of Ja Rule, a similar urban music sensation helmed by Gotti. The New York producer took notice of Ashanti initially because of her beauty, dancing, and acting. She trained as a dancer at the Bernice Johnson Cultural Arts Center, learning a number of dance styles. She danced most notably in Disney's Polly, which starred Phylicia Rashad, and also appeared in a number of big-name music videos, in addition to other dance work. As an actress, she made a name for herself with roles in Spike Lee's Malcolm X and Who's da Man before that. The multi-talented vocalist was causing quite a stir, and Gotti did what he could to bring her into his Murder Inc. fold. After showcasing her swooning voice on Big Pun's "How We Roll" and the Fast and Furious soundtrack -- both in 2001 -- Gotti put Ashanti to work on her debut album, which he produced.
  With hitmaker Irv Gotti at the helm, Ashanti blasted into the urban music scene in 2002, topping the charts with multiple singles at once. She quickly became a sensation, gracing the covers of magazines and dominating urban radio. Ashanti built her reputation with duets, where she would complement an already popular rapper -- Ja Rule ("Always on Time"), Fat Joe ("What's Love?"), the Notorious B.I.G. ("Unfoolish") -- contrasting the tough-guy male perspective with her own. It didn't take the young vocalist long to make a name for herself though: her debut album topped the Billboard album chart just as her debut solo single, "Foolish," was topping the Hot 100 chart. Her presence was inescapable.
  And then Ashanti's album debuted at number one on the album chart, selling an astounding 500,000-plus copies in its first week. With all this chart-topping, Ashanti set some sales records and her success continued. Gotti readied a remix of "Foolish," titled "Unfoolish," that featured the Notorious B.I.G. and again overtook urban radio, where no artist was more omnipresent throughout 2002 than Ashanti. She returned the following year with Chapter II, which likewise topped the Billboard album chart on the heels of its hot lead single, "Rock Wit U (Awww Baby)." In the future, you can expect to hear and see much more of this young talent. Ashanti has served notice that she is moving on up.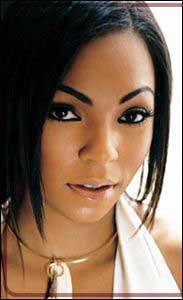 2002年4月以前,Ashanti对于我们来说还是一个相当陌生的名字。不过就在4月,在全美流行音乐界权威的Billboard排行榜上,Ashanti的同名专辑《Ashanti》推出第一周就售出了50万张,登上专辑榜榜首,并刷新了历史上独唱女歌手首张专辑第一周销量的纪录,而选自其中的单曲《Foolish》则在单曲榜上称王。同时,《Ashanti》和《Foolish》还分别是R&B/Hip-Hop专辑和单曲榜上理所当然的老大。在Billboard的四个排行榜上夺冠。
  Ashanti Douglas 于1980年出生在美国纽约州长岛的一个音乐之家。她的父亲曾经是一名歌手,她的母亲是一名舞蹈教练。Ashanti 在6岁时就开始在一个福音唱诗班演唱,随着年龄的增长,她的音乐才能得以发展,而她上台演出的机会也随之而来。
  Ashanti的首次亮相是在2001年Big Pun的红歌《我们如何摇滚》中的演唱,她的嗓音极富感染力,引起了唱片制作人的注意。当时著名的音乐制作人Irv Gotti找到了她,并和她签订了唱片合同。
  Ashanti的节奏布鲁斯演唱风格使原本是纯说唱风格的唱片公司更有实力。公司的销售部着手为Ashanti第一首单曲进行宣传,于是她出现在Jay Rule的红歌Always on Time《永远准时》当中,这首歌无论在电台、电视台都频繁亮相,此外,她还翻唱了当红的Fat Joe演唱的走红歌曲What's Love?《什么是爱?》,从而引起了轰动,唱片公司几乎是"被迫"提早在4月2日发行了Ashanti的同名专辑。
  她的第一首单曲《Foolish》直冲排行榜首,歌曲的音像版也被反反复复地播放。结果,专辑《亚香缇》于推出的第一周就销售了50多万张,对于一个相对不为人知、又没有肩负期望的人来说,这是一个巨大的成功。相信不远的将来,这位年轻的新秀将会有更好的音乐表现。