Legally Blonde
http://www.sina.com.cn 2004/02/27 15:45 《英语学习》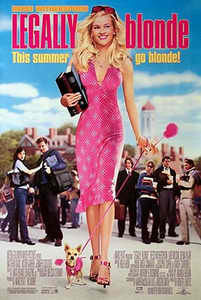 洛杉矶姑娘艾丽是个人见人爱的金发美女,加州大学女生联谊会的主席,大学的校花。艾丽和学校里的帅哥沃纳拍拖,并一心巴望着嫁给他。但她做梦也想不到的是沃纳压根就不想娶她,理由竟然是艾丽长得太漂亮了。来自东海岸议员世家的沃纳认为,漂亮女孩大都头脑空空,而且愈是头发黄,愈是见识短,无法辅佐他的事业。因此,沃纳在进入哈佛法学院之后就把艾丽甩了,并与同时进入哈佛的前女友重修旧好。不甘心的艾丽决定通过自己的努力考入哈佛,夺回沃纳。
  自进入男系社会以来,女性的社会地位就一直从属于男性,大多数国家在教育、就业、经商、从政等各个方面都对女性存在不同程度的歧视。近半个世纪以来男女平等在很大程度上只停留在法律条文形式上,文化与观念上的歧视则是根深蒂固的。中国俗语说女人'头发长,见识短'与欧美男人倾向于将金发美女视作漂亮尤物如出一辙。但事实却证明,在克服了各方面障碍的完全平等的条件下,女性的各种能力一点也不比男性差。2001年度英国中学考试的平均成绩女生大大好于男生,大学与研究生男女生比例也早已平分秋色。在这方面,《律政俏佳人》这部轻喜剧给我们提供了一个形象的范例。
  Elle Woods is a beautiful blonde<注1>. majoring in fashion merchandising at University of California at Los Angeles (UCLA).Because of her lovely personality and excellence in studies, she is elected the president of her sorority<注2> called Delta Nu and voted homecoming queen<注3> of the year.What's more, she has a very smart and handsome boyfriend named Warner Huntington, a famous senator's<注4> son.One night, Warner invites her to an expensive restaurant for a special dinner, an indication that he is to propose to her.Elle's friends are very happy for her and help her to choose the right dress and perfume for the special occasion.What Elle does not expect is that instead of proposing to her, Warner tells her that he decides to break up with her and get serious about his future since he's going to Harvard Law School<注5> to be a lawyer and future senator like his father.
  After the blow, Elle changes \into\ a different person who no longer cares about making up and eats a lot of junk food<注6>.Her friends' comfort and advice have little effect on her. One day Elle happens to see a picture on a celebrity magazine<注7>. It's Warner's brother with his plain looking girlfriend as first-year students at Harvard Law School.Elle hits upon a good idea that Warner will come back to her if she can enter the same law school and show him her talent. Thus she begins to inquire about the procedure and prepare her LSAT exam (Law School Admission Test).After a period of intensive hard work, she passes the exam and is admitted \into\ Harvard Law School.
  Arriving at Harvard, Elle immediately catches the eye of the students there. But they talk about her in a sarcastic way since law school means hard work and high I.Q.<注8>, not skin-deep beauty. Elle is very excited when she sees Warner, but she pretends to ignore his existence to arouse his curiosity, which turns out to be very effective. Warner is surprised to learn that Elle entered the school through her own effort and regrets dumping her. What Elle doesn't know is that Warner now has a new girlfriend Vivian, a girl he met in prep school<注9>. When Elle learns about it, she is very disappointed. What's the point of coming here all the way if she cannot get Warner back?!
  Driving along the street, Elle happens to see a beauty parlor<注10> and decides to have a look since her major was fashion merchandising. Here she meets a very nice middle-aged woman Paulette and pours out her heart-broken story. The woman also tells Elle her own sad story of being dumped by her husband after eight years of marriage. The man even took away her pet dog. Paulette suggests that, with her beauty and charm, Elle can easily steal Warner back from Vivian.
  In the very first class given by the harsh woman professor Stromwell, Elle makes a scene and is turned \into\ a laughing stock<注11> for failing to answer the professor's question and being embarrassed by Vivian. What is worse, not a single study \group\ likes to accept her as a member since she is regarded as a mere fashion model without a brain. Vivian and her friends also fool her at a party by telling her beforehand that it was a costume ball<注12>. Elle appears at the casual occasion in a bunny's costume, which embarrasses her again.
  After trying several times, Elle fails to win Warner back since he is not convinced that Elle is smart enough to match him as a future lawyer. Now the battle turns \into\ one for Elle to prove her worthiness of the law profession instead of merely getting her boyfriend back. Hard work results in her great progress and she starts to get attention from the professors. Elle also helps Paulette get her pet dog back from her ex-husband by applying legal knowledge she has learned. All these greatly boost her confidence.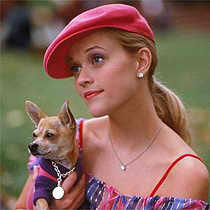 When it's the time to do their internship, Professor Callahan, also a law firm partner, chooses Warner, Vivian and Elle to help him handle a case of murder. If they do the job well, they might get a position in the law firm when they graduate. It's a case of a young woman Brooke being charged, by her stepdaughter of similar age, of \having\ murdered her aged millionaire husband. While the rest of the \group\ headed by the professor believe that it's an obvious case of murdering for wealth, Elle thinks otherwise by instinct. She reasons that it's the millionaire's daughter and ex-wife who wanted to get rid of Brooke in order to inherit the whole property. However, Brooke wouldn't provide her alibi<注13>, a key element to win the case.
  Elle volunteers to collect evidence from Brooke after learning that she used to be a member of Delta Nu at UCLA.
  With care and understanding Elle touches Brooke and wins her trust. Thus Elle gets Brooke's alibi and wins the respect from the whole \group\ including Callahan's assistant Emmett and Vivian who later confides to Elle a secret that Warner is not smart at all and that he got \into\ Harvard from the waiting list<注14> all because of his father's influence. At the same time, Paulette begins to date a nice postman who often brings mails for her.
  One day, Professor Callahan calls Elle in.He praises Elle for her intelligence in helping the case before implying that she could work in his law firm and become an associate under the condition that she goes to bed with him. Elle is shocked and decides to quit the case. She even wants to quit the law school. Encouraged by Paulette and Professor Stromwell, Elle changes her mind. What surprises Elle is that Brooke fires Callahan and hires her as her defense lawyer after learning about what happened. Assisted by Emmett, Elle wins the case for Brooke and becomes famous.
  At the gate of the court, Warner is waiting for Elle. He intends to resume their relationship. But now it's Elle's turn to reject his proposal in contempt.
  After three years?hard work, Elle graduates with honors.She is chosen to make a speech at the graduation ceremony.Elle tells the audience that it is passion, courage of conviction<注15>, and strong sense of self that has helped her finish her study and find the meaning of life.
  Vivian dumped Warner. She and Elle are now best friends. Warner graduated without honors, without a girlfriend and without any job offers. Paulette married the postman. They are expecting their first child, a daughter to be named Elle. Emmett left Callahan's firm and started his own practice. He and Elle have been dating for the past two years.

影视新形象《律政俏佳人》(图)
  Excerpts
  Warner Breaks up with Elle at the Dinner Table
  Elle: Must be strange \having\ such perfect eyes.
  Warner: God, you're so wonderful. Elle, thank you.
  Elle: Here's to us.
  Warner: To us. Elle?
  Elle: Yes?
  Warner: One of the reasons I wanted to come here tonight was... to discuss our future.
  Elle: And I am fully amenable<注16> to that discussion.
  Warner: Good. You know how we've been \having\ all kinds of fun lately?
  Elle: Yeah.
  Warner: Well, Harvard is gonna be different. Law school is a completely different world, and I need to be serious.
  Elle: Of course.
  Warner: My family expects a lot from me.
  Elle: Right.
  Warner: I expect a lot from me. I plan on running for office<注17> someday.
  Elle: I fully support that. You know that, right.
  Warner: Absolutely. But the thing is... if I'm going to be a senator by the time I'm thirty I need to stop dicking around<注18>.
  Elle: Warner, I completely agree.
  Warner: That's why I think it's time for us... Elle, pooh bear<注19>...
  Elle: Yes. (Expecting his proposal in excitement) I do.
  Warner: I think we should break up.
  Elle: What?!
  Warner: I've been thinking, and it's the right thing to do.
  Elle: You're breaking up with me? I thought you were proposing.
  Warner: Proposing? Elle, if I'm going to be a senator, I need to marry a Jackie, not a Marilyn<注20>.
  Elle: You're breaking up with me because I'm too blonde?
  Elle's Parents Persuade Her not to Go to Law School
  Father: Law school?
  Elle: It's a perfectly respectable place, Daddy.
  Mother: Honey, you were first runner-up<注21> at the Miss Hawaiian Tropics contest. Why are you gonna throw that all away?
  Elle: Going to Harvard is the only way I'll get the love of my life back.
  Father: Sweetheart, you don't need law school. Law school is for people who are boring and ugly and serious. And you, Button<注22>, are none of those things. (Elle sighs)
  Self-Introduction at Harvard Law School
  Class Leader: O.K. Welcome to law school. This is the part \where\ we go around in a circle and everyone says a little bit about themselves. (Looks at David) Let's start with you.
  David: My name is David Kidney. I have a master's in Russian literature, a Ph. D in biochemistry<注23>, and for the last eighteen months I've been deworming orphans in Somalia<注24>.
  Class Leader: Awesome. (Shifts to Enid) What about you?
  Enid: Hey. How you doin'? I'm Enid Wexler. I got a Ph. D. from Berkeley in women's studies emphasis in the history of combat<注25>, and last year, I single-handedly organized the march for lesbians<注26> against drunk driving.
  Class Leader: Killer.
  Enid: Thanks. Good times. (It is Aaron's turn)
  Aaron: Aaron Mitchell. I graduated first in my class from Princeton, and I have an I.Q. of 187. And it's been suggested that Stephen Hawking<注27> stole his Brief History of Time from my fourth grade paper.
  Class Leader: Cool. (Turns to Elle)
  Elle: Me?
  Class Leader: Yeah.
  Elle: O.K. Hi. I'm Elle Woods and this is Bruiser Woods (raising her petdog) and we're both vegetarians<注28>. I have a bachelor's degreein fashion merchandising from UCLA, and I was a Zeta Lambda Nu sweetheart, president of my sorority, Delta Nu. And last year, I was homecoming queen. Oh, two weeks ago I saw Cameron Diaz<注29> at Fred Segal and I talked her out of buying this truly heinous angora sweater<注30>. Whoever said orange was the new pink was seriously disturbed.