Iraqi Wrestlers Pursue Olympic Dreams
http://www.sina.com.cn 2004/07/12 12:03 新浪英语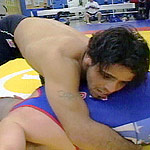 Olympic hopefuls from many different countries are regularly invited to train at sports complexes in the United States. These facilities offer a number of advantages: coaching, technology, and the opportunity to train against future opponents. But, for a group of visiting Iraqi athletes, training in the United States has political value as well.
  Iraqi wrestler Ahmed Weali has come to America in pursuit of an Olympic dream.
  "It's proud for me to be here in this country and wrestling with some of the greatest wrestlers in the world, here in the United States," he said. "It's a good experience for me."
  Ahmed Weali is part of a group of Olympic hopefuls and coaches training at the United States Olympic Complex here in Colorado Springs, in the western region of the country. Also training here is another Iraqi wrestler Ahmed Saraj and Para-Olympic fencer Khalid Kheram.
  "To be here in the United States, it helps us very much," he said. "Here we are have a good developed level of training, equipment and a high level of skills. So it's going to be great for us."
  Hosting international athletes at U.S. Olympic training facilities is an ongoing program. One which U.S. Olympic Committee spokesperson Darryl Seibel says fosters competition and camaraderie.
  "We know that by welcoming athletes from other countries we're enhancing not only their training but also the training of our athletes," he said.
  Also currently working out in Colorado Springs is Guatemalan weightlifter Joel Bran.
  "To be here means a lot to us," he said. "To be in such a developed country, in a country so strong with such global potential, to be training here is a benefit for us. It is a privilege."
  "Everybody's been so kind to us," said an Iraqi team representative
  But the Iraqi team's presence here is more than an athletic training exercise; it is an attempt to use sports for diplomatic and political ends Ahmed Weali reminds people that even in the world of sports, life under Saddam Hussein was a nightmare.
  "It was like we were living in a prison in Iraq, without bars but a prison," he said. "We were not allowed to travel."
  By contrast he is now free to travel and compete on a world stage. Ahmed Weali's opponent on this day U.S. wrestler Brandon McNabb is impressed by his abilities.
  "His technique's pretty good," he said. "You know. He's maybe a top 30 guy in the world or something like that. So he's not bad."
  The Iraqis' host in Colorado Springs is Bob Gambardella, who recently traveled to Iraq on behalf of the U.S. Olympic Committee. He says this trip is about building the bonds of friendship.
  "I think they can kind of, you know, share our cultural values, what we're all about," he said. "And they take that back and tell their families and their families tell their friends. And I think it's a great story."
  In part because of his visit to America, Ahmed Weali is optimistic about the future of sports in Iraq.
  "With the United States efforts and the Iraqi efforts back home, we will have a great future," he said.
  USOC spokesperson Darryl Seibel says in some ways athletic competition is merely a means to achieve the greater Olympic ideals.
  "This is part of our responsibility, as a member of the worldwide Olympic family," he said. "This is an opportunity for the U.S. Olympic Committee to play a role, not only in re-establishing sports programs and sports infrastructure in Iraq, but also to further peace and understanding in our world."