英文原声电影欣赏:《杀死比尔》
http://www.sina.com.cn 2005/04/29 11:29 国际在线


(本页面根据网友网络环境测速选择相应比特率的文件进行自动播放,如不能正常观看视频请重新点击视频链接或留言,点击下载视频播放器)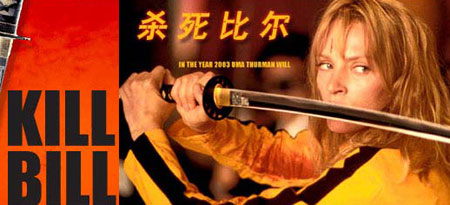 《杀死比尔》电影海报
  [剧情简介]
  乌玛-瑟曼饰演一名叫"新娘"的女杀手,她想脱离所属之暗杀组织,不料却在自己的婚礼上遭到组织首脑比尔与其党羽的虐杀,她头部中弹整整昏迷了4年,在她终于苏醒后,她发誓要不惜一切追杀比尔、复仇到底!她带着忍者般的钢铁意志踏遍世界各地,从美洲一路追杀到敌人到亚洲,足迹遍布加州、墨西哥、中国大陆、香港和日本等地,一场她与比尔浴血大战即将展开。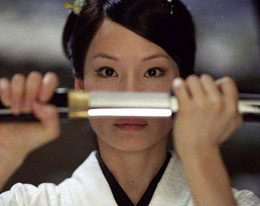 "The Bride" was once part of a group of world class female assassins, until the group leader, "Bill" and the other assassins turn against her. Five years later "The Bride" awakens from the coma the assassins left her in and heads out to seek bloody revenge. Unlike conventional movies, Kill Bill is told in chapter format making the narrative flow more like a book than a film.
  [影片片段]
  Vernita: I'm coming! Sarah, I can not believe you are early. What you gonna do now, huh? What you got? I got your ass! Remeber that? Huh? Remember? OK, come on, bitch! Come on! Bring it on!
  Nikki: Mommy, I'm home.
  Vernita: Hey, baby. How was school?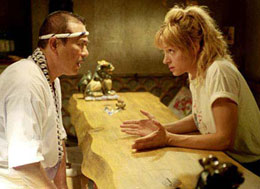 Nikki: Mommy, what happened to you and the TV room?
  Vernita: Oh. That good-for-nothing dog of yours got his little ass in the living room and acted a damn fool. That's what happened, baby.
  Nikki: Barney did this?
  Vernita: Baby, now, you can't come in here. There's broken glass everywhere and you could cut yourself. This is an old friend of mommy's I ain't seen in a long time.
  Black Mamba: Hi, honey. What's your name?
  Vernita: Her name is Nikki.
  Black Mamba: Nikki. Such a pretty name for such a pretty girl. How old are you, Nikki?
  Vernita: Nikki, she asked you a question.
  Nikki: I'm 4.
  Black Mamba: 4 years old, eh? You know, I had a little girl one. she'd be about 4 now.
  Vernita: Now, baby, me and mommy's friend got some grown-up talk to talk about. So you go into your room now and I want you to leave alone till I tell you to come out. Okay? Nikkia! In your room. Now. You want some coffee?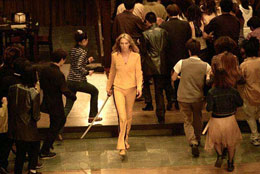 Black Mamba: Yeah, sure.
  (This Pasasdena homemaker's name is Jeanne Bell. Her husband is Dr. Lawrence Bell. But back when we were acquainted, four years ago, her name is Vernita Green. Her code name was Copperhead. Mine, Black Mamba.)
  Black Mamba: Do you have a towel?
  Vernita: Yeah.
  Black Mamba: Thanks.
  Vernita: So you still take cream and sugar, right?
  Black Mamba: Yeah.
  Vernita: So I suppose it's a little late for an apology.
  Black Mamba: You suppose correctly.
  Vernita: Look, bitch, I need to know if you're gonna start more shit around my baby girl.
  Black Mamba: You can relax for now. I'm not gonna murder you in front of your child, okay?
  Vernita: That's being more rational than Bill led me to believe you were capable of.
  Black Mamba: It's mercy, compassion, and forgiveness I lack. Not rationality.
  Vernita: Look, I know I fucked you over. I fucked you over bad. I wish to God I hadn't, but I did. You have every right to want to get even.
  Black Mamba: No, no, no, no, no. No. To get even, even Stephen. I would have to kill you, go up to Nikki's room, kill her, then wait for your husband, good Dr. Bell to come home and kill him. That would be even, Vernita. That'd be about square.
  Vernita: Look, if I could go back in a machine, I would. But I can't. All I can tell you is that I'm a different person now.
  Black Mamba: Oh, great... I don't care.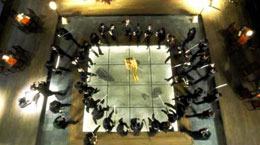 Vernita: Be that as it may, I know I don't deserve your mercy or your forgiveness. However, I beseech you for both on behalf of my daughter.
  Black Mamba: Bitch, you can stop right there. Just because I have no wish to murder you before the eys of your daughter does not mean that parading her around in front of me is gonna inspire sympathy. You and I have unfinished business. And not a goddamn fucking thing you've done in subsequent four years, including getting knocked up, is gonna change that.
  Vernita: So when do we do this?
  Black Mamba: It all depends. When do you want to die? Tomorrow? The day after tomorrow?
  Vernita: How about tonight, bitch?
  Black Mamba: Splendid. Where?
  Vernita: There's a baseball diamond where I coach our little league about a mile from here. We meet there around 2:30 in the morning, dressed all in black, your hair in a black stocking. And we have us a knife fight. We won't be bothered. Now, I have to fix Nikki's cereal.
  Black Mamba: Bill said you were one of the best ladies he ever saw with an edged weapon.
  Vernita: Fuck you, bitch. I know he didn't qualify that shit. So you can just kiss my motherfucking ass, Black Mamba. Black Mamba. I should have been motherfucking Black Mamba.
  Black Mamba: Weapons of choice? If you want to stick with your butcher knife, that's fine with me.
  Vernita: Very funny, bitch! Very funny!
  Black Mamba: It was not my intention to do this in front of you. For that, I'm sorry. But you can take my word for it. You mother had it coming. When you grow up, if you still feel raw about it...I'll be waiting.
  [语言点提示]
  1. start more shit around,俚语,对某人不利。
  2. get even,扯平,互不相欠。
  3. beseech someone for something,为某事恳求某人。
  4. take one's words for somethng 相信某人说的是真话