英文专家Ian Macdermott简介
http://www.sina.com.cn 2005/06/29 21:40 EF英孚教育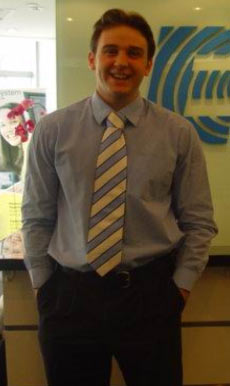 Ian Macdermott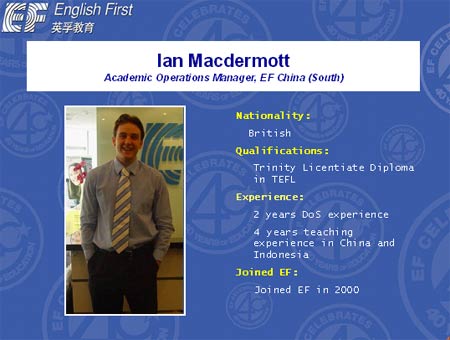 Ian Macdermott的经历
  Hi!
  My name's Ian Macdermott and I am an Academic Operations Manager for EF English First in China. I've worked for EF for 4 and a half years in Indonesia and now China. I'm based in the Shanghai office, but spend most of my time traveling in the south of China, visiting our huge network of language training centers!
  I'm lucky because I get a lot of variety in my daily work. and I love my job! The best part for me is doing teacher training and helping our teachers reach their maximum potential. I always wanted a job working directly with people and EF English First is a people business!
  In my spare time (and I don't get much!) I like to relax with friends, go out to restaurants and get some exercise at the gym or playing football. I'll never be as good as Beckham unfortunately but I try my best!
  I'll be online so please come and join me for a chat!
  I look forward to speaking with you!