狮王女巫和魔衣橱--纳尼亚传奇精彩片段
http://www.sina.com.cn 2006/03/27 13:31 国际在线

本页上播放的所有视听内容未经新浪许可,不得转载。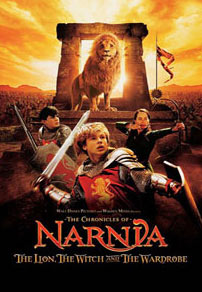 《纳尼亚传奇》电影海报
  故事起源于第二次世界大战,饱受战火灼烧的英伦本土,四个可怜的孩子无奈之下离开城里的学校,被父母送到郊区的一所大房子里躲避战争的魔爪。房子的主人是个古怪的老教授,一切奇异的故事都从他那空旷的大房子里同样大大的衣橱开始……
  Based on the classic novel by CS Lewis. Four London children are sent to a professors country home in order for protection during World War II. There they find a magic wardrobe which leads to a mystical land called Narnia, which is being ruled by an evil witch. To defeat the Witch, they must join forces with Aslan, the lion God of Narnia, and the great battle between good and evil.
  影片片段一:
  Movie Script I 电影对白一:
  Lucy: Were you hiding from me?
  Mr. Tumnus: No, I, I, I just didn't want to scare you.
  Lucy: If you don't mind my asking, what are you?
  Mr. Tumnus: I'm a faun. And what about you? You must be some kind of beardless dwarf?
  Lucy: I'm not a dwarf! I'm a girl! And actually I'm the tallest in my class.
  Mr. Tumnus: You mean to say that you're the daughter of Eve.
  Lucy: My mom's name is Helen.
  Mr. Tumnus: You're, in fact, human?
  Lucy: Yes, of course.
  Mr. Tumnus: What are you doing here?
  Lucy: Well, I was hiding in the wardrobe in this spare room...
  Mr. Tumnus: A spare room? Is that in Narnia?
  Lucy: Narnia? What's that?
  Mr. Tumnus: Well, what do you think? You're in it. Everything from the lamppost, all the way to the castle Cair Paravel on the eastern ocean. Every stick and stone you see, every icicle, is Narnia.
  Lucy: It snows in the wardrobe.
  Mr. Tumnus: What? I'm sorry, please allow me to introduce myself, my name is Tumnus.
  Lucy: Pleased to meet you Mr. Tumnus. I'm Lucy Pevensie. Oh, you shake it.
  Mr. Tumnus: Uh, why?
  Lucy: I, I don't know. People do when they meet each other.
  Mr. Tumnus: Well, then, Lucy Pevensie, from the shining city of wardrobe in the wonderland of spare room. How would it be if you came and had tea with me?
  Lucy: Oh, thank you very much. But I...I probably should go back.
  Mr. Tumnus: It's really near, it's just around the corner. There is a glorious fire and toast and tea and cakes, and perhaps we'll even bring in the sardines.
  Lucy: I don't know.
  Mr. Tumnus: Come on. It's not everyday I get to make a new friend.
  Lucy: Well, I guess little Pevensie could come for a little while, if you have sardines.
  Mr. Tumnus: By a bucket load.
  语言点提示:
  1. faun:(古罗马传说中)半人半羊的农牧神
  2. hide from sth/sb 表示:躲避某人某事。