Shaq Agent: NBA Star Would be Happy With Miami
http://www.sina.com.cn 2004/07/12 12:10 新浪英语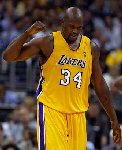 Shaquille O'Neal's agent says the Los Angeles Lakers star center would be happy to be traded to Miami.
  Perry Rogers told a Florida newspaper that Shaq would agree to a trade. Rogers also said he would be "very surprised" if it did not happen.
  The Los Angeles Times, citing team and league sources, reported the Lakers have agreed in principal to deal O'Neal to Miami for Lamar Odom, Caron Butler and Brian Grant and a first round draft pick.
  The deal can not be completed until Wednesday, when a two-week NBA moratorium on trades and free-agent signings expires.
  O'Neal's contract with the Lakers runs for two more seasons and is worth nearly $59 million. He was angered earlier this season when the team refused to offer him an extension.