Pet Rescue 拯救受虐动物
http://www.sina.com.cn 2005/05/12 21:11 《Speak 2 Me》

  Mistreat your animals and someone might take them from you.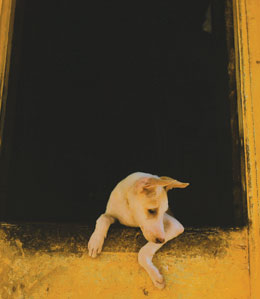 Allen (not his real name) is driving north out of Virginia in the middle of the night, with stolen property in the back of his van. But Allen isn't a criminal – in fact he normally would never dream of breaking the law.
  The "property" he stole is a dog he calls Flash. Allen doesn't particularly want Flash – in fact, in a few hours he'll drop him off at a stranger's house and never see him again. "I couldn't just stand by and do nothing," he explains. "The owner was plainly neglecting the dog, but the police wouldn't do anything about it."
  For over a year, Flash had been tied to a tree in front of someone's house. "He was sick and malnourished," says Allen. "More than once I saw [the owner] kick him for no reason at all." Allen had repeatedly tried to get the owner to take better care of the animal, or to give it away to someone who would. Finally, he took matters into his own hands – in the dead of night, he took Flash off his chain and drove away with him.
  Within an hour, Flash had a new license tag and was being treated by a veterinarian who knew better than to ask questions. Pictures of the dog were put up on animal rescue websites, asking for someone to adopt the dog. A couple in New York offered to take the dog, and animal lovers in states along the way agreed to provide transportation.
  Nobody can say for sure how many animals like Flash are 'rescued' every year – receiving stolen property is a crime, so rescuers tend to stay in the shadows. But a growing number of empty collars attests to their work as more and more animals find their way to loving homes.

Pet Rescue 拯救受虐动物
  如果虐待你的动物,别人可能会把它带走
  艾伦﹙非真名﹚半夜驾车向北离开弗吉尼亚州,他的货车后座还放着赃物。但艾伦并不是罪犯──事实上,他通常从不会想到去做违法的事。
  他偷的"赃物"是只狗,他叫它"闪光"。艾伦并不特别想要"闪光"──事实上,几个小时之后他就会把这只狗放在一个陌生人的家里,再也不会跟它见面。"我没办法站在一边什么都不做。"他解释道,"那个主人明显忽视他的狗,但是警察不愿意对此采取行动。"
  一年多来,"闪光"一直被绑在某人屋前的树上。"他生病了,而且营养不良。"艾伦说,"我不止一次看到主人无原无故就踢它。"艾伦反复尝试要主人对待那只动物好一点,或者把它送给可以好好对待它的人。最后,他主动去处理了──在深夜里,他把"闪光"的链子解下,驾车带它离开。
  一个小时后,"闪光"有了新的牌照,得到了一位不至于蠢到去发问的兽医的治疗。这只狗的照片被登在动物救援网站上,请求别人领养它。一对纽约的提出愿意照顾这只狗,沿途几个州里热爱动物的人士同意提供交通工具。
  没有人能切确地知道每年有多少像"闪光"这样的动物被"拯救"──接受赃物是种犯罪行为,所以救援的人往往会躲起来。但是,随着越来越多的动物找到有爱心的人家,有越来越多的空项圈为爱心人士的工作做证。
  [Focus]
  take matters into your own hands 主动处理
  We can't wait around any more – we have to take matters into our own hands.
  know better than to 不至于笨到去…
  You should know better than to drink and drive.
  [Vocabulary]
  1.property [`prZpXtI] n. 所有物;财产
  My property insurance paid to replace my stolen bicycle.
  2.criminal [`krImKnT] n. 罪犯
  The three criminals escaped in a stolen car.
  3.never dream of chk. 从没想过
  We'd never dream of selling this house. It means too much to us.
  4.drop s/th or s/b off v. chk. 让…下车
  On your way from dropping the kids off at school, will you stop and buy some milk?
  5.neglect [nIg`lAkt] v. 忽视
  If you continue to neglect your teeth, you'll end up losing them.
  6.malnourished [mGl`nSIBt] adj. 营养不良的
  The lost hiker was found at last – slightly malnourished but otherwise healthy.
  7.for no reason at all chk. 完全没有原因
  She started an argument with me for no reason at all.
  8.license tag n. chk. 许可牌;车牌
  Did you get a look at the car's license tag before it drove off?
  9.veterinarian [ˊvAtKrK`nArIKn] n. 兽医
  He loves animals, so he wants to grow up to be a veterinarian.
  10.adopt [K`dZpt] v. 领养
  They couldn't have children of their own, so they adopted a baby girl.
  11.collar [`kZlX] n. 项圈
  The collar broke and the dog ran away.
  12.attest to v. chk. 为…做证;证明
  I've known him all my life and can attest to his character.