《蜘蛛侠》精彩电影片段欣赏
http://www.sina.com.cn 2005/03/12 15:32 国际在线

  Spider-man --- 蜘蛛侠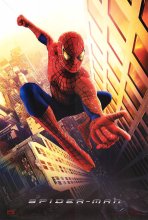 聪明又腼腆的彼得·帕克自幼父母双亡,和舅舅、舅妈生活在一起,过着一种默默无闻的普通学生生活。在一次学校组织的活动中,他和同学们去看有关蜘蛛的科学展览,不料却被一只基因变异的蜘蛛咬了一口,从此,他被神奇地赋予了蜘蛛的那种能够感知危险来临的第六感。彼得变得敏锐、迅捷,并且身体里能够透出无穷的力量。
  在一次意外的事件中,由于彼得的自私行为,导致了他的亲人被窃贼所害。万分悔恨的彼得感悟到平常人与英雄之间仅有一线之隔,并想起了舅舅跟他说过的话:"力量越大,那你的责任也就越大"。
  彼得决定跨越这条线,成为匡扶正义,除暴安良的蜘蛛侠,将此生投入到同罪恶势力作斗争的行动去……
  A rather odd thing has just just occurred in the life of nerdy high school student Peter Parker; after being bitten by a radioactive spider, his body chemistry is mutagenically altered in that he can scale walls and ceilings, and he develops a "spider-sense" that warns him of approaching danger. Adopting the name "Spider-Man", Peter first uses his newfound powers to make money, but after his uncle is murdered at the hands of a criminal Peter failed to stop, he swears to use his powers to fight the evil that killed his uncle.
  At the same time, scientist and businessman Norman Osborn, after exposure to an experimental nerve gas, develops an alternate personality himself; the super-strong, psychotic Green Goblin!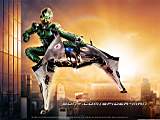 Peter Parker must now juggle three things in his life; his new job at the local newspaper under a perpetually on-edge employer, his battle against the evil Green Goblin, and his fight to win the affections of beautiful classmate Mary Jane Watson, against none other than his best friend Harry Osborn, son of Norman Osborn!
  Is this challenge too much for even the amazing Spider-Man to handle?
  影片片段欣赏:
《蜘蛛侠》(Spider-man)精彩片段
点击观看:宽带视频
  Harry: M.J. Would you stop goofing around?
  M.J.: Harry, relax!
  Harry: He's here.
  Aunt: Are you ready?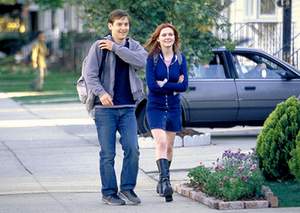 Osburn: Aunt May. I'm sorry, I'm late. Work was a murder. I picked up a fruitcake.
  Aunt: Thank you, Mr. Osburn. We're so glad you could come.
  Harry: You look great.
  M.J.: Thanks.
  Osburn: Who is this lovely young lady?
  Harry: M.J., I'd like you to meet my father, Norman Osburn. Dad, this is Mary Jane Watson.
  M.J.: Hi.
  Osburn: How do you do? I've been looking forward to meeting you.
  M.J.: Happy Thanksgiving, sir.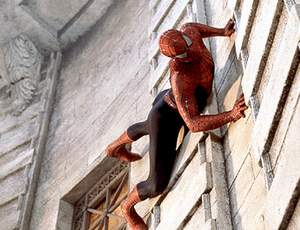 Aunt: Where is Peter? He'd better have remembered that cranberry sauce.
  Harry: Oh, that's weird. I didn't know he was here.
  Aunt: Peter? Peter? Is that you?
  Osburn: Peter?
  Aunt: How strange! There's nobody here.
  Osburn: Bit of slob, isn't he?
  Aunt: All the brilliant men are.
  Peter: Hi, everyone. Sorry, I was late. It's a jungle out there. Had to beat an old lady with a stick to get these cranberries.
  Aunt: Thank you, now everybody, sit down and we can say grace.
  Osburn: Parker.
  Aunt: Here we go.
  M.J.: Oh, it looks delicious.
  Aunt: Norman? Will you do the honors?
  Aunt: Why? Peter! You are bleeding.
  Peter: Oh, yeah, I stepped off a curb and got clipped by one of those bike messengers.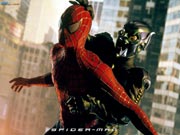 Aunt: Let me see. Oh, my goodness! That looks awful.
  Peter: It's nothing.
  Aunt: I'll get the first aid kit. Then we will say the grace. This is the boys' first Thanksgiving here and we are going to do things properly.
  Osburn: How did you say this happend?
  Peter: Bike messenger. Knocked me down.
  Osburn: If you'll excuse me, I've got to be going.
  Harry: What? Why?
  Osburn: Something has come to my attention.
  Harry: Are you all right?
  Osburn: I'm fine, just fine. Thank you Mrs. Parker. Everyone, enjoy the fruitcake.
  语言点提示:
  1. goof around 闲逛,玩耍
  2. look forward to doing something 盼望着做某事。
  例句:I'm looking foward to going to Hawaii. 我盼着去夏威夷。
  3. bit of slob, 口语中常用,应该是He is a bit of slob. 他有点懒。
  4. first aid kit急救药箱,是欧美家庭必备品。
  5. Something has come to my attention. 我突然有点事。